The anime community is one of the fastest-growing on the planet and can't get enough of the excellent manga adaptations. Every day, new anime like Chainsaw Man, Blue Lock, and Spy x Family are released to cater to this vast community. Now, we have already covered the top apps to read manga on iPhone and Android
However, if you are looking to get started with watching anime and can't decide what platform to use, well, we are here to help. We have compiled a list of the best anime streaming services for beginners. These streaming websites and apps will help you kick-start your anime-watching journey, so let's dive in!
1. Top Anime Streaming Platforms (2022)
We have considered several factors when compiling this list of the best free and paid anime streaming platforms. We have mentioned what website is best for beginners, what free services you can use to watch popular anime, and what website you should use to watch new anime. Use the table below to navigate through the various anime streaming websites:
1. Crunchyroll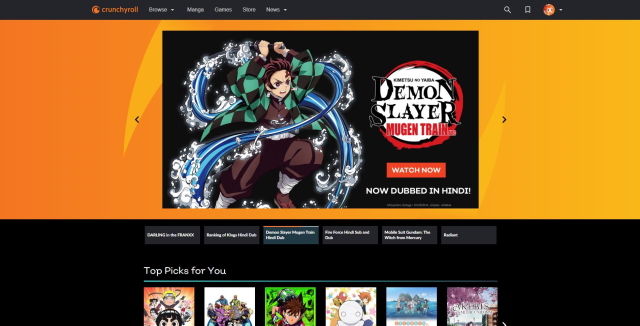 Crunchyroll is the most popular anime streaming platform and the go-to destination for most anime fans worldwide. You might be familiar with popular anime like Death Note, Naruto, etc., and Crunchyroll has you covered with over 1,000 anime series and movies. Don't worry if you prefer watching anime with subtitles or anime dubbed in English, as Crunchyroll provides both versions for all popular anime. Not just that, Crunchyroll has now started dubbing animes in other regional languages like Hindi, Spanish, and more.
Crunchyroll Features
If you are wondering about all the amazing features that Crunchyroll offers, check out the list below:
For beginners, Crunchyroll provides a list of anime divided by genres to help you choose the ones you should watch first. However, we don't suggest Crunchyroll to new anime watchers, as it can be overwhelming. You should check out Netflix or YouTube channels we've described below.
Offline viewing, browsing through their perfectly-sorted genres, and customizing your watchlist.
The simulcast feature supported by Crunchyroll is one of the primary reasons anime fans use this service, as it allows you to watch all the latest anime on the same day it airs in Japan.
Crunchyroll also brings you the latest news to keep you up to date on your favorite shows, such as Demon Slayer Season 3 and Jujutsu Kaisen Season 2.
They even have a dedicated store where you can purchase anime figurines and merchandise. Also, there's a Crunchyroll games section, where you can play anime-based games.
Finally, you can use the Crunchylist feature to create your own favorite anime lists and share them with the anime community on the platform.
Crunchyroll Plans
Crunchyroll allows you to watch selected anime for free, with a few ads, but you don't get access to the entire library. The Crunchyroll premium plan gives you full access to their anime library as well as many other features such as simulcasts, high-quality streaming options, a manga library, and more.
| Pros | Cons |
| --- | --- |
| World's largest anime collection | Dubbed anime selection is slim |
| Anime simulcasts at the same time when it airs in Japan | Quality of translation for subtitles can be average at times |
| Can be streamed on all devices | |
Database: 1000+ anime series and movies
Platform: Android, iOS, Web, Windows, Android TV, Apple TV, Xbox, and Sony PS5 consoles
Try out Crunchyroll
2. Funimation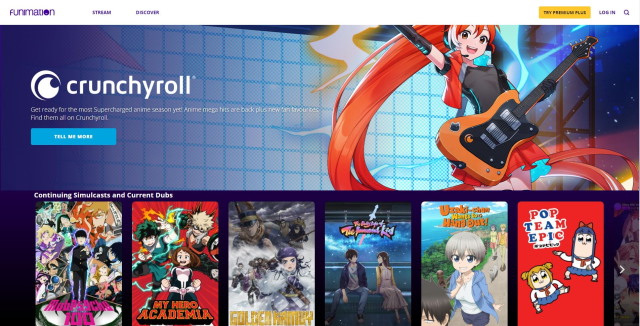 Funimation Features
The Funimation website and app are filled with useful features like,
Funimation features a neater and more attractive user interface than Crunchyroll. But the latter is upgrading the look and feel of the platform with a new website UI in beta.
A search engine that is optimized to help you find the exact anime you are looking for.
Much like other streaming apps, you have an offline downloading option here, which lets you watch anime from any location while you're on the move.
Funimation Plans
Funimation offers two subscription plans – a Premium and a Premium Plus plan – to anime watchers. They also offer a free trial of 7-14 days (depending on the promotion), so you can try out all its features before you decide to join its membership. So, Funimation is the best anime streaming service for you if you don't want to keep reading the subtitles as you watch.
| Pros | Cons |
| --- | --- |
| Smoother UI experience | No manga library |
| Focus on dubbed anime series | Smaller anime library |
| Official anime merchandise store | |
| Option to customize subtitles | |
Database: 600+ anime series and movies
Platform: Android, iOS, Web, Windows, Android TV, Apple TV, Xbox, and Sony PS5 consoles
Try out Funimation
3. Netflix
Almost all of the well-known anime movies and TV series are available on Netflix, which now has a significant selection of anime content. In particular for beginners, if you are just starting your anime-watching journey, Netflix is probably the best streaming service to use. You can watch both subbed and dubbed versions of a majority of popular anime on Netflix, so you don't have to worry about that. As for all the features you get on Netflix, there are as under:
Netflix Features
They consistently add new anime series to their library (recently, they included many popular Studio Ghibli movies)
Netflix also supports simultaneous streaming (Simulcast), airing the latest episode on the same day as it airs in Japan, for some of the newest anime like Spy X Family, Blue Lock, MHA, and others.
Netflix is renowned for its clear and sophisticated user interface across all platforms, along with the plethora of profile and playback features.
Netflix also creates original anime TV series, including Cyberpunk Edgerunners, Devilman Crybaby, Castlevania, and more.
Furthermore, Netflix offers a number of features like ad-free streaming (starting with the basic plan in some countries), curated anime suggestion lists, Offline downloads, and more.
Netflix Plans
As mentioned before, this anime streaming service is the greatest option for newcomers. When compared to other platforms, Netflix's sole drawback is how pricey. but you also get access to the best Netflix movies and TV shows along with anime.
| Pros | Cons |
| --- | --- |
| Perfect anime streaming app for beginners | Fast-growing anime library; but smaller than competitors |
| Dubbed version available for many shows | Subscription plans are expensive |
| Simulcasts some of the major new anime | Inconsistent release schedule |
| Offers several add-on features | |
Database: 200+ anime series and movies
Platform: Android, iOS, Web, Windows, Android TV, Apple TV, Xbox, and Sony PS5 consoles
Try out Netflix
4. VRV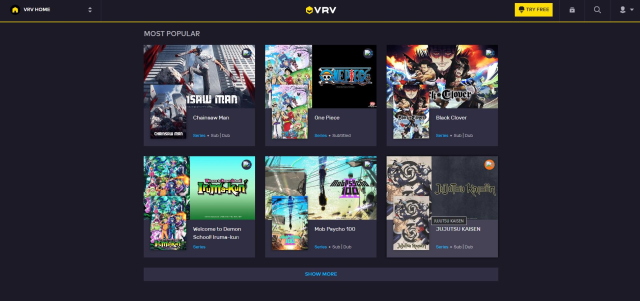 VRV is the top streaming platform for those who wish to stream both animated shows and anime concurrently. VRV combines multiple streaming providers into one massive library. The streaming services include international cartoon streaming services like Boomerang, Cartoon Hangover, Mondo, NickSplat, Rooster Teeth, etc. as well as anime streaming services like Crunchyroll, HIDIVE (described below), and more. Additionally, VRV creates its own original shows like Netflix and Crunchyroll.
VRV Features
VRV has a great user interface, allowing you to switch between each platform they offer.
You can head back to VRV Home to see all the shows from each channel combined and presented in a clean manner.
It has numerous features like offline viewing, simulcast for new anime (from Crunchyroll), creating your own watchlists, and curated suggestions like all the other platforms.
| Pros | Cons |
| --- | --- |
| Offers multiple streaming services in a single library | Channels may disappear without any notice/ warning |
| You can stream both anime and animated shows | Does not have a big anime community like others |
| Get content from Crunchyroll at a lower cost | The media player feels a little outdated |
Database: Most of the popular anime series and movies are available along with animated shows
Platform: Android, iOS, Web, Windows, Android TV, Apple TV, Xbox, and Sony PS5 consoles
Try out VRV
5. Hulu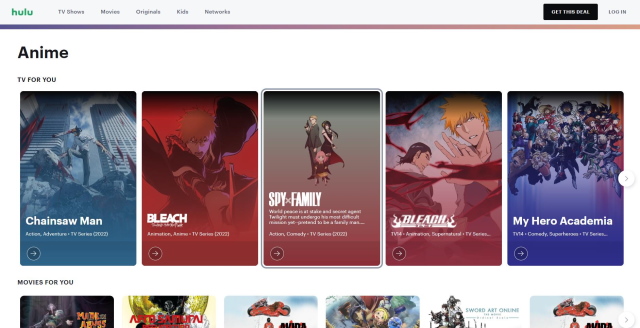 As everyone knows, Hulu is also one of the world's leading streaming platforms and an excellent alternative to Netflix. Hulu also attracts anime fans by hosting an adequate amount of anime content in their library. They have almost all of the popular anime that a newcomer would want to watch like Naruto, AOT, Demon Slayer, and many others.
Hulu Features
Curated suggestions based on your anime tastes in the "My stuff" tab. You must set it up at the start when signing up for the service.
Offline viewing to download and watch all your favorite anime on to go.
Hulu's recent updates have given the platform a fresh and modern look, and Hulu plans to add more features in the future.
Hulu Plans
Hulu has got three different subscription plans with monthly as well as yearly membership offerings. You have the Basic plan with ads, the Premium plan, and the Premium + Live TV plan. Hulu also offers a 30-day free trial period for newcomers to test out their platform.
| Pros | Cons |
| --- | --- |
| Impressive UI experience | Offline downloading feature limited to premium users |
| Stream other titles along with anime | Limited anime content available |
| Offers popular anime for beginners | No simulcast feature |
Database: 100+ popular anime series and movies are available along with movies and shows
Platform: Android, iOS, Web, Windows, Android TV, Apple TV, Xbox, and Sony PS5 consoles
Try out Hulu
6. Anime-Planet

Anime-Planet is another legal streaming platform that lets you watch anime for free. They don't give away access to their complete anime library for free. But they do have popular anime like Naruto Shippuden, Jojo's Bizarre Adventure, Noblesse, Tower of God, etc., which you can stream for free. Much like VRV, anime series on Anime-Planet are available through a partnership with Crunchyroll and HIDIVE. The website does support all the premium content, but you can only access it by becoming a premium member.
Anime-Planet Features
Anime-Planet does not list an official number for the number of TV shows or movies on its platforms. But it does have a bigger anime library with over 45,000 episodes in total.
They have a neat UI similar to Crunchyroll and also offer you the ability to read manga here.
There is a community section for anime fans to share anime reviews, anime lists, and manga reviews, which is something you ought to appreciate.
Anime-Planet Plans
Anime-Planet doesn't have any subscription plans of its own. The only way to access premium content is to get a Crunchyroll subscription and link your account here. Then, you can watch all the anime content available on this platform, which sounds like a bit of a hassle.
| Pros | Cons |
| --- | --- |
| You can watch popular anime for free | Only a few popular anime available for free |
| Decent anime library | Separate subscription is needed to unlock premium content |
| Community to share reviews and lists with other anime fans | |
Database: 45,000+ anime episodes
Platform: Website
Pricing: Free, Get a Crunchyroll premium account and link it here
Try out Anime-Planet
7. Retrocrush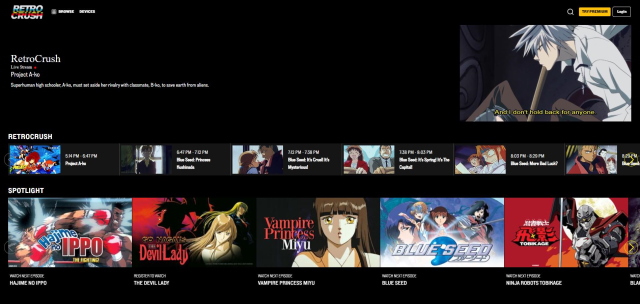 Retrocrush is like a time machine for anime fans, enabling them to travel back in time and watch classic anime series and movies. There's no denying that RetroCrush is known as the "criterion channel" for otakus and weebs. You can easily watch all of your childhood favorites here, as they offer hundreds of classic anime.
Retrocrush Features
Retrocrush's simple user interface presents a curated list of anime separated by genre.
You can watch some of the content for free (with ads, of course), but they do not display frequent and annoying advertisements, unlike some other platforms.
Retrocrush has the biggest classic anime library when compared to other platforms.
Retrocrush Plans
If you prefer an ad-free experience, . It grants you full access to its vast library of exclusive premium content, dubbed TV series, and other offerings. You can try out the premium features with a 14-day free trial.
| Pros | Cons |
| --- | --- |
| Won't find a classic anime library like this on any other platform | Doesn't have a watchlist option |
| Watch popular vintage anime for free (with ads) | Buggy media player and not-so-good UI |
| Premium plan is pretty cheap | |
Database: 100+ popular vintage anime series and movies
Platform: Android, iOS, Web, Windows
Try out Retrocrush
8. HIDIVE
HIDIVE has a unique set of anime that is mostly a hit or miss for many people. Depending on your anime taste, you may or may not want to watch these anime. HIDIVE has around 500 anime shows and movies, including popular titles like Parasyte, The Promised Neverland, Bloom Into You, Made in Abyss, and Clannad, to name a few. It also hosts classic anime like Legend of the Galactic Heroes, among many others. So, if you want to start your anime career in a more niche or distinct way, HIDIVE is the platform for you.
HIDIVE Features
What makes HIDIVE unique is that it provides uncensored/ uncut versions of select anime titles, such as Akame ga Kill.
Much like Crunchyroll and Netflix, HIDIVE also provides a simulcast feature. You can use this feature to watch some of the best upcoming anime in Fall 2022, such as Eminence in the Shadows, Reincarnated as a Sword, and others, at the same time they air in Japan.
HIDIVE has a variety of other features such as private chat rooms for you to chat with your friends, and the option to create up to three profiles in your account.
HIDIVE has a clean UI with separate sections for each genre and dedicated tabs at the top to switch between simulcast, dubbed, and subbed shows.
| Pros | Cons |
| --- | --- |
| Uncut versions of shows like Akame ga Kill | Smaller library; Lacks a lot of popular anime |
| Offers a more unique library than other platforms | No option for offline downloads |
| Private chat room option | |
Database: around 500 anime series and movies
Platform: Android, iOS, Web, Windows, Android TV, Apple TV, Xbox, and Sony PS5 consoles
Try out HIDIVE
9. YouTube
You are probably wondering why we have included YouTube in this list of the best anime streaming websites and apps. But you read that correctly, YouTube channels such as Muse-Asia and Ani-one Asia give free access to popular anime such as One Punch Man, Bleach, The God of High School, Tokyo Retribution, Mushoku Tensei Jobless Reincarnation, and many others.
Features
You can stream anime in Full HD (1080p) resolution, but some are only available in 720p, which is still a great deal considering it's totally free.
YouTube also has made several changes to its UI recently, making it smoother and better than ever for users to watch videos and get access to paid content.
Plans
You can also join these channel by subscribing to their membership plan starting at Rs 119/month (or $1.50/ month, but only available in Asian countries at this moment), which provides you with full access to their premium exclusive content. Chainsaw Man, for example, is currently being simulcasted on the Ani-one Asia channel as part of their premium plan. Check out this dedicated article to learn about how to watch Chainsaw Man anime.
| Pros | Cons |
| --- | --- |
| You can stream anime in high-quality for free | Smaller anime library |
| The premium plan is very cheap compared to other platforms | Can Simulcast the latest anime but with a delay (free membership) |
| New anime will be added regularly | No manga library |
Database: N/A
Platform: Android, iOS, Web, Windows, Android TV, Apple TV, Xbox, and Sony PS5 consoles
Try out Muse Asia, Ani-one Asia, and Official Beyblade Asia
10. Amazon Prime Video
Amazon Prime is one of the most popular streaming platforms, but its anime library is limited in comparison to the other platforms. If you already have a Prime membership for one-day delivery needs, Prime Video might come in handy if you are a beginner. Because, despite not having many popular animes, Prime Video includes a few well-known TV series such as Vinland Saga, Hunter x Hunter, GTO, Psycho-Pass, Dororo, and others.
Amazon Prime Video Features
New updated and smoother UI, making anime accessible via its own category.
The offline downloading option is available with a premium subscription.
You can watch other popular movies and original TV shows on Amazon Prime Video along with anime.
Amazon Prime Video Plans
Prime Video has two different memberships with monthly as well as yearly subscription plans. It also offers you a 30-day free trial, where you can stream well-known movies and shows, along with your favorite anime.
| Pros | Cons |
| --- | --- |
| Exclusive X-ray option to know more about your favorite show | Tiny anime library |
| You can stream movies and shows along with anime | Very less dubbed content |
| High-quality streaming | Expensive for the limited content that is available |
Database: Only a few popular anime series and movies are available along with movies and shows
Platform: Android, iOS, Web, Windows, Android TV, Apple TV, Xbox, and Sony PS5 consoles
Try out Amazon Prime Video
11. Anime Streaming Service FAQs
1. What is the most used anime app?
Crunchyroll is the most popular app among anime fans, followed by Funimation, Netflix, and others.What's better than Crunchyroll? Although Crunchyroll provides the largest collection of anime, you may also check out options like Funimation and VRV, each of which has its own benefits. And if you are a beginner looking for the best streaming service to start your anime journey, we suggest you go for Netflix.
2. What is the best free anime streaming service?
The best free and legal anime streaming services at the moment are YouTube channels like Muse-Asia and Ani-one Asia.
3. Top Anime Streaming Services You Should Use
So these are the best anime streaming platforms that are ideal for newcomers and hardcore fans alike to delve into the world of anime. As we have already stated, even if the majority of platforms offer some free streaming capabilities, you must take advantage of the free trial to fully test them out and see if they are worth subscribing to. Let us know which anime streaming platform you like the most and plan to use in the comments below.
Buy us a Coffee
If you like what you see, consider supporting our work -- for just the cost of a cup of coffee.
Support
Like our content? follow us on other platforms!!