As we near the end of the year, Android 13 has been released worldwide by Google and is now available to download on Pixel phones. Now, various companies are bringing out their own Android 13-based skins, and the excitement is high. However, besides the newest OxygenOS 13 update, which is a rebranded version of ColorOS 13, has left users with a bad taste in their mouths.
Samsung has also released One UI 5 in public beta in select countries, including Korea, US, and India, among others. Initially only available for the Galaxy S22 series, the beta has since extended to the S21 series. With certain interesting additions to the OS, One UI 5.0 on Samsung Galaxy phones is rife with some good features. Let's discuss them all in this in-depth best One UI 5.0 features article.
Top Samsung One UI 5.0 Features (2022)
We will talk about a host of new features that have come out with One UI 5.0, including more visual upgrades, stacked widgets, improved multi-tasking, and more. If you already know what you're looking for.
1. Visual Changes
While One UI 4.0 came out with Material You theming support, Samsung has now extended the feature even further. One UI 5.0 brings tweaks to the wallpaper and style section of the OS. The color picker swatch now provides a lot of wallpaper color combinations to users. Compared to last year, you now get 8 different dynamic themes based on your wallpaper to choose from.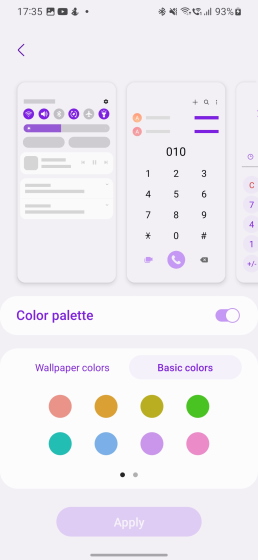 However, that's not all. Users can now also pick from among 8 different basic colors and 4 dual-tone color presets to spice up their experience. Don't want to have a color palette altogether? Simply toggle it off with the new option provided in the section.
Samsung has also brought some new icons for some of the native apps to modernize the design a bit. Apps like Gallery, Calendar, Phone, My Files, and Contacts have gained refreshed icons. While the changes are minor, the icons now look more cohesive and in line with the One UI theme and design.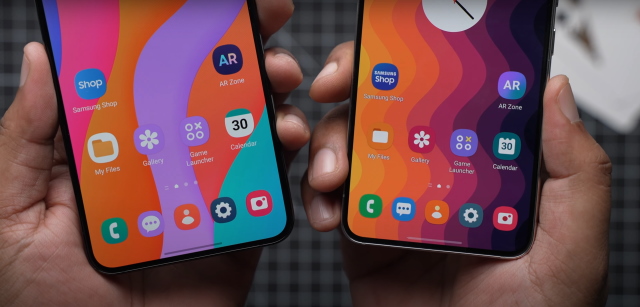 Notification permission and pop-ups now sport rounded corners and match the colors of your theme. This extended theming is present in other areas as well, including Settings, where the headings are now colored according to your presets, and the Volume Sliders, which now fill up with the wallpaper color instead of the standard One UI white.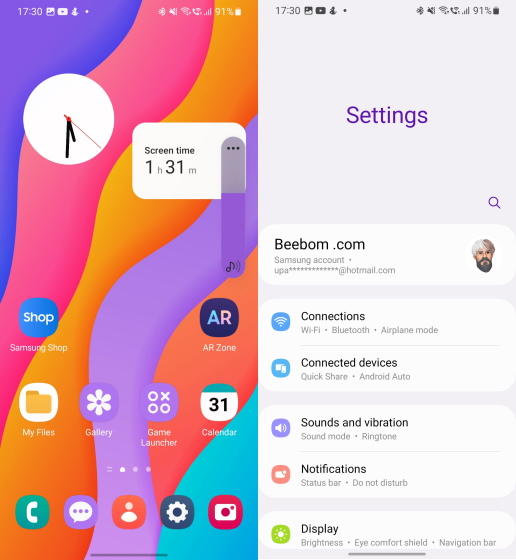 With a healthy mix of exclusive and Android 13 visual features here, Samsung's latest One UI 5 update proves to be a good refresh to this year's software lineup.
2. Intelligent Wi-Fi
While connecting to wireless networks is nice and all, there are times you need in-depth information about your network situation. This is where One UI 5's new Intelligent Wi-Fi feature comes into the picture. Found hidden in the Wi-Fi panel, Intelligent Wi-Fi is a standalone section, which opens up a plethora of different options for your connection.
Some of these are consolidated options found in other Wi-Fi options but most of them are new. You can now see settings like Prioritize important data, Switch to better Wi-Fi networks, etc. However, that's not all.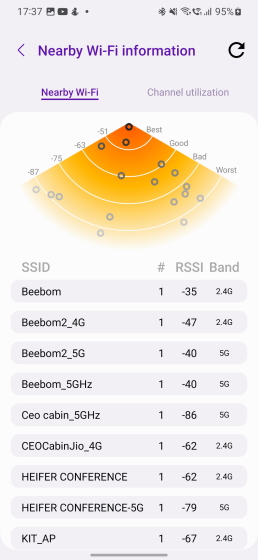 Tapping repeatedly on the Intelligent Wi-Fi option opens up the network's developer settings, which give you more possibilities. You can now access in-depth connection information, including your link speed, channel use in %, and various network-specific options. Moreover, there's a handy new "Nearby Wi-Fi" information tab, which showcases all Wi-Fi networks along with their bands and coverage performance.
You can also check a networks' channel utilization in real-time to get a better idea of your Wi-Fi use. And for those inclined, you can even see the router and time-specific history. Overall, Intelligent Wi-Fi is a big improvement in One UI 5 and definitely stands out as one of the features worth trying.
3. Call Backgrounds per Contact Basis
While call backgrounds is a feature already available in One UI 4, the One UI 5 update brings with it the ability to set individual call backgrounds. That means, instead of setting up a universal one, you can choose to set different backgrounds for each of your contacts.
The backgrounds can range from simple images and video patterns to AR emojis or even custom videos you create. Since this is the first time you can do this on some Samsung phones, people are understandably excited for this feature. So for those who have embarrassing videos of their friends, now's the time to break it out.
4. Revamped Notifications Panel
Amid the slew of visual changes hitting One UI 5.0, the notifications are another area that have received a fair level of attention. The notification shade now has a slightly different look, sporting bigger app icons that stand out by themselves.
This makes sorting through various app notifications easier. Furthermore, if you receive a string of notifications from a single app, the icons now stack below each other creating a nice effect. The spacing between the notification bubbles has also been increased, thereby, making them all feel more individual in One UI 5. Also, the notification settings and clear options beneath the bars now have their own rounded box.
5. Extended Individual Notification Control
For users who wish to further fine-tune where they receive their app notifications, One UI 5 has something nice in store. Instead of just being offered Brief and Detailed notification types in One UI 4, you can now choose the exact notification type (from three options) and whether it is allowed or not.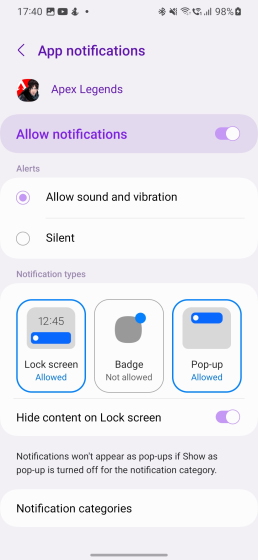 So if you are someone who doesn't want to see notifications in the form of a badge on their lock screen, head to notifications settings and tap the boxes to disable them and just leave pop-ups open. This is a handy feature designed to five back a modicum of privacy to users.
6. Improved Stacked Widgets
One UI 4 had its own form of stacked widgets that were called Smart widgets. However, One UI 5 brings an improvement in the form of easily stackable widgets (much like iOS). Now, instead of having to go through the widgets menu to add a smart widget, you can simply drag and drop a widget of a similar size over another widget, and it will turn into stacked widgets.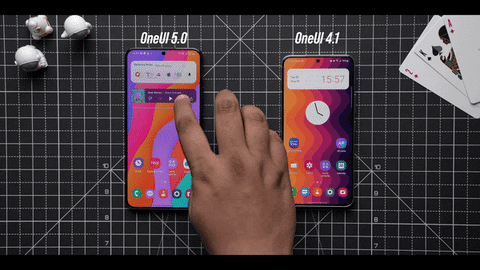 This also means that you are not limited to a single size. As long as both your widgets are isometric, you can drag and drop and create a stack. One UI 5 also allows you to edit this stack by simply pressing and holding it to add/ remove widgets with ease.
7. Improved Multi-Tasking
Multi-tasking also gets a bit easier in One UI 5.0 with the seamless ability to drag and drop apps on either the top or bottom half of the screen to enable split screen mode. So no longer will you need to open the app switcher and press the split screen option to open two apps at the same time. This works for all apps and is easily accessible.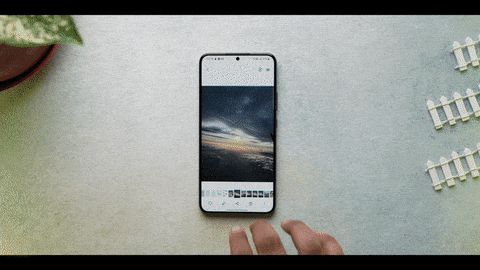 Furthermore, Samsung Labs has also brought about two new features. These new multitasking gestures make converting windows to pop-up floating windows or split screen easier. You simply need to swipe down from the top right corner, and your app will scale to your drawn gesture.
Want to use apps split screen instead? Swipe upwards from the bottom of the screen with two fingers, and the app will immediately move to the top half of the display. While these lab gestures are also available in One UI 4.1.1 on the Z Fold 4, this makes multi-tasking easy on One UI 5. If you are in the habit of using the Edge Panel on Galaxy phones, there's a new feature that will let you see the apps' full names easily by toggling a button.
Buy us a Coffee
If you like what you see, consider supporting our work -- for just the cost of a cup of coffee.
Support
Like our content? follow us on other platforms!!